Nokian tire dealer in
richmond hill
Nokian Tires is a highly-regarded tire brand that has been providing top-quality tires for over 80 years. Known for their exceptional durability, safety, and environmental friendliness, Nokian Tires are a popular choice for drivers all over the world. TrilliTires is a trusted tire dealer located in Richmond Hill that specializes in providing high-quality Nokian tires for various types of vehicles.
As a Nokian tire dealer, TrilliTires offers a wide range of Nokian tires, including winter, summer, and all-season tires, and provides professional tire installation, balancing, and alignment services. Their experienced team can help customers select the perfect Nokian tire for their vehicle, taking into account factors such as driving style, road conditions, and budget.
The Nokian zLine A/S tire is a high-performance all-season tire designed for drivers who demand maximum grip and stability in any weather condition. Its innovative asymmetrical tread pattern features unique 3D sipes that enhance traction on both dry and wet roads, while its strong, aramid-reinforced sidewalls provide excellent durability and protection against punctures.
The Nokian zLine A/S tire is also engineered with Nokian Tyres' "Coanda Technology," which helps to optimize the airflow around the tire, reducing turbulence and improving fuel efficiency. Additionally, the tire is equipped with Nokian's "Silent Sidewall Technology," which reduces road noise and vibrations for a smoother and more comfortable ride.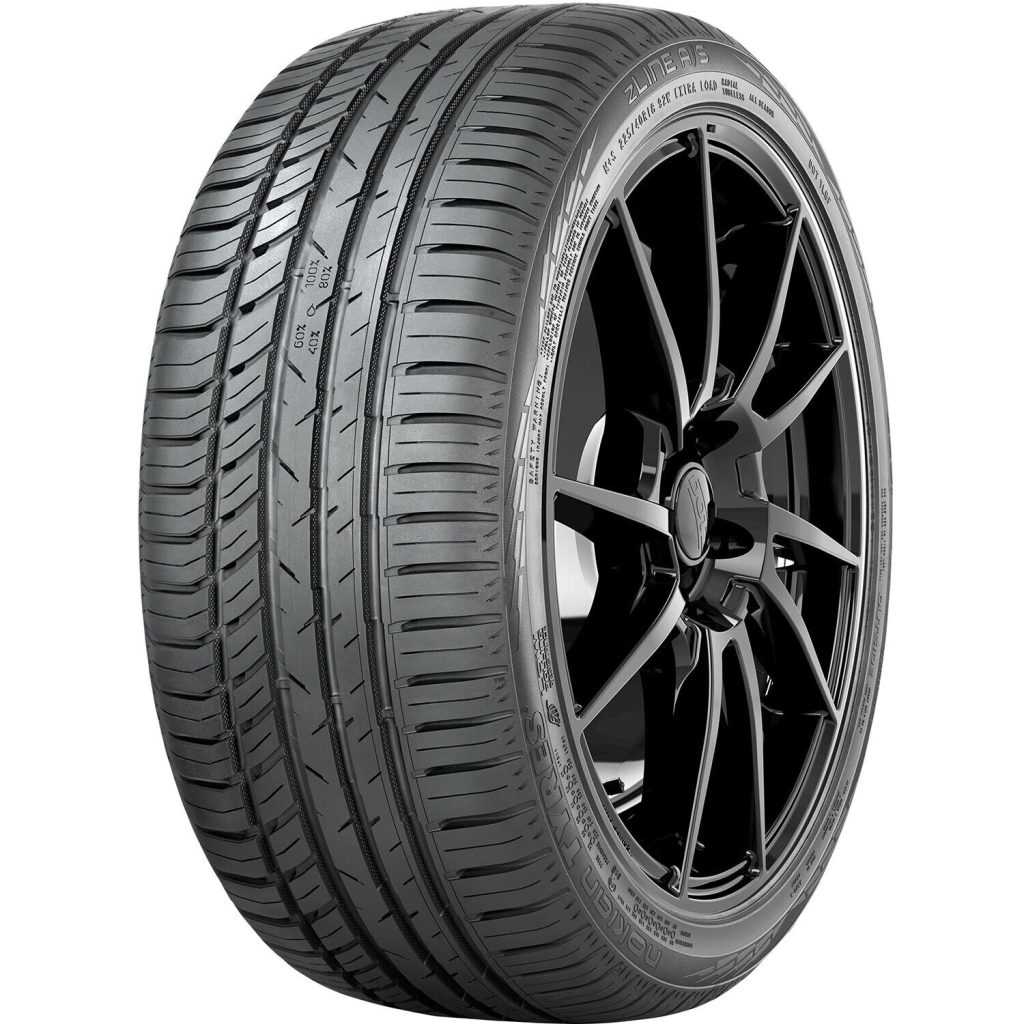 All-Season Tire for Light Trucks & SUVs.
High Performance All-Season Tire for Sedans, Coupes & SUVs.
All-Terrain Tire for Light Trucks, SUVs & Crossovers.
All-Purpose / All-Weather Tire for SUVs, Crossovers & Small Light Trucks.
All-Weather Tires for Sedans, Coupes, SUVs & CUVs.
Studless Winter Tire for Passenger Cars, Minivans, SUVs & CUVs.
Studless Winter Tire for Electric Vehicles – Passenger Cars, SUVs & CUVs.
All-Season / Mud-Terrain Tires for Light Trucks, SUVs & Off-Road use.