bridgestone tire dealer in richmond hill
Bridgestone Tires is a well-known tire brand that has been producing top-quality tires for over 90 years. Bridgestone is known for their advanced technology, performance, and safety features, making them a popular choice for drivers all around the world.
TrilliTires in Richmond Hill is an official dealer of Bridgestone Tires and offers a wide selection of their products for various types of vehicles. They have a team of experts who can help customers choose the right Bridgestone tire based on their driving needs and budget.
The Bridgestone Alenza AS Ultra is a premium all-season tire designed for drivers of luxury SUVs, crossovers, and pickup trucks. It delivers exceptional performance and safety features, making it a popular choice for drivers who demand high-quality tires.
The Alenza AS Ultra tire features Bridgestone's advanced Nanopro-Tech compound, which delivers exceptional grip and handling on both wet and dry roads, while also providing long-lasting tread life. It also features an asymmetric tread design that enhances stability, steering response, and reduces the risk of hydroplaning.
Additionally, the tire has 3D sipes and biting edges that provide improved traction and grip on snow and ice, making it suitable for all weather conditions. The Bridgestone Alenza AS Ultra tire also features noise-cancelling technology, which helps to reduce road noise and vibrations for a quiet and comfortable ride.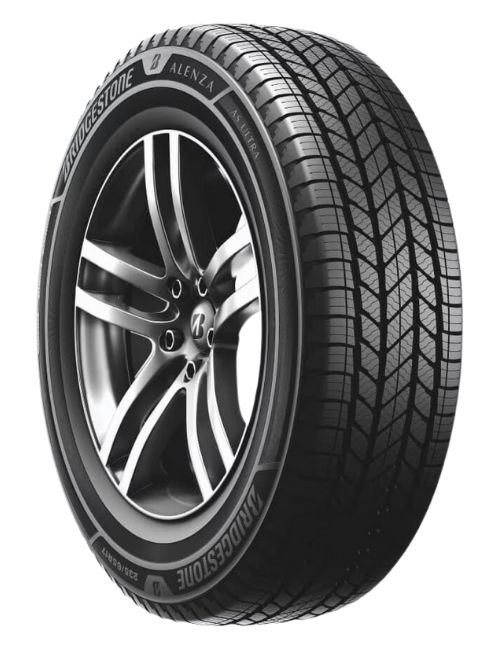 Ultra-High Performance All-Season Tire for Sports Cars, Luxury Sedans & Crossovers
Crossover & SUV All-Season Tire
All-Season Tire for Passenger Cars, Minivans & Crossovers
Highway Terrain All-Season tire for Pickup Trucks & SUVs
All-Terrain Tire for Trucks, SUVs & CUVs
All-Season Touring Tire for SUVs & Crossovers
Grand Touring All-Season Tire for Sedans and Coupes 
Grand Touring All-Season Tire for Sedans and Coupes
Grand Touring All-Season Tire for Sedans and Coupes
Studless/Studded Ice & Snow Winter Tire for Sedans, SUVs, Crossovers & Minivans
Studless Ice & Snow Winter tire for Sedans, SUVs, Crossovers & Minivans
Performance Winter / Snow Tire for Sports Cars & Performance Sedans/Coupes & SUVs
Max Performance Summer Tire for Sports Cars and Performance Sedans/Coupes
Max Performance Summer Tire for Sedans, SUVs & CUVs
Max Performance Summer Tire for Sedans, SUVs & CUVs